ABOUT KHUNKHA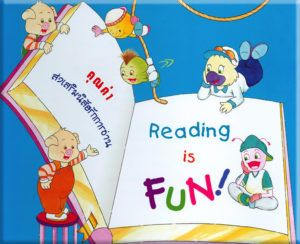 READING IS FUN!
This was the first mission of KHUNKHA MAGAZINE since its first issue (August 1988). We all know that reading is the beginning of kids' learning. Every 36-page issue of Khunkha Magazine contained huge amount of Fun Stuff for kids so they can read and learn happily.
From August 1988 - January 2009, our total 208 issues of Khunkha Magazine were published and read by Thai kids from 6 - 11 years old all over Thailand. We received many awards and honors, which were our inspiration to create some special thing perfect for kids to start reading and learning with fun.
Christmas 2016 is the best time for Khunkha Magazine to reborn in another version as KhunkhaMagazine.com and we even add more fun for kids by create Khunkha eBook, every page was well selected from our Khunkha magazines.
We have at least 100 eBooks in our lists. And we proudly present our first eBook, MERRY CHRISTMAS. Almost everything the kids should know about the joy of Christmas is filled in this eBook. Our next eBook will be coming soon.
KhunkhaMagazine.com is dedicated to carry on the mission of Khunkha Magazine and helps kids grow up wisely and happily.
If you have any questions, please do not hesitate to contact us.
Special thanks to Jameson, NYC Tech Club who inspired us to create the special design of this site.