History is not just about facts and dates. Instead, history is a collection of solutions for any problem, just like a good story for you to watch and learn. There are many Hidden Benefits of learning history, e.g., to come across your historical hero, to improve your decision-making and judgment from learning the past, and even better, a broad perspective.
To view full picture in PDF please click the link

 history1kingtaksin
The above picture tells the story about one of Thai famous people, King Taksin the Great or the King of Thonburi.
Born 17 April 1734 in Ayutthaya, King Taksin was the son of Yong (Chinese descent) and Nok-iang (Thai).
He was adopted by Chao Phraya Chakri and got the name "Sin".
After being a Buddhist monk for about 3 years, Sin joined the service of King Ekatat and was the governor of Tak, which gained him his name Phraya Tak.
Due to his courage and skill in fighting, he was promoted to be Phraya Vajiraprakarn, the governor of Kamphaeng Phet. During the Burmese-Siamese War, he carried out the defense of Ayutthaya in its last days.
During the end of Ayutthaya in 1767, he decided to cut his way out from the city and travelled to Chantaburi. He was rebuffed by the Governor of Chantaburi. His strategic plan to attack and capture Chantaburi was making night attack and he told his soldiers to destroy all the food and utensils they had, for they would have their food in Chantaburi next morning.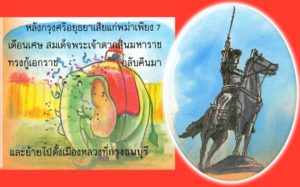 Only seven months after the sack of Ayutthaya, his army was rapidly increasing in numbers, the Burmese were defeated and King Taksin won back Ayutthaya from the enemy.
On December 28, 1767 he was crowned king of Siam and assumed the official name of Boromraja IV, but is known in Thai history as King Taksin, Phraya Tak or the King of Thonburi.
He established the city Thonburi as the new capital, as the city Ayutthaya had been almost completely destroyed by the Burmese.
King Taksin the Great statue was unveiled in the middle of Wongwian Yai. The opening ceremony of this monument was held on April 17, 1954 and the fair takes place annually on 28 December.
Nowadays the capital of Thailand is Bangkok and Thonburi is one of its districts.